Quantity
Price
Up to 60 Strands
1 hour
£120
Up to 80 Strands
1 hour 20 minutes
£160
Up to 100 Strands
1 hour 40 minutes
£200
Up to 120 Strands
2 hours
£240
Up to 140 Strands
2 hours 20 minutes
£280
Up to 160 Strands
2 hours 40 minutes
£320
Removal
Followed by a blow-dry, cut and finish or refit of Easilocks
£90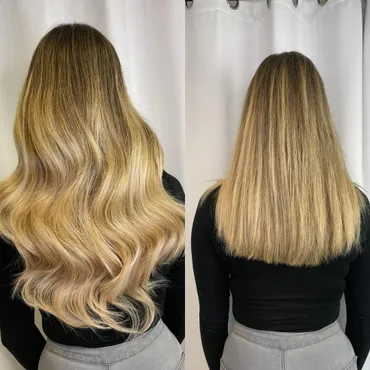 Why Easilocks?
Easilocks only use the finest, ethically sourced 100% Remy hair. The hair is also double drawn meaning it provides incredible thickness from the roots to the ends. It is sourced from young hair donors and so the hair is in its most healthy condition, and as a result, provides long-lasting results. "I have been using Easilocks now for 2 years having always been unfortunate with extremely fine hair. Out of all the hair extensions services I have tried, Easilocks is by far the most superior and most natural-looking I have had". Easilocks makes sure every piece of hair goes through vigorous testing and quality control to make sure that only the best make it into the hair extension weft.
What makes Easilocks different from other brands?
Easilocks is the only hair extension system that has been carefully designed to preserve the integrity of your natural hair whilst providing volume and length. Easilocks does not just care about the temporary effects of hair extensions, but most importantly, how you can protect your natural hair in the long run, so you can have the best of both worlds! Our stylists are professionally trained to apply and remove Easilocks hair extensions quickly and efficiently. Easilocks not only gives instant volume and length but are designed to blend into any hair colour and tones, thickness or texture, and non-detectable to the eye.
What type of module does the salon offer?
We use Easilocks Tips for the best results. These are by far the most innovative yet safe modules on the market. The Tips are free from heat, glue, sewing, braiding and damage. They are held to your hair with microscopic-sized copper locks that are discreet, comfortable, and healthy for your hair. "the method in which they are installed is much kinder to the hair, and does not cause any damage following appropriate aftercare".
How discrete are they?
A big factor when it comes to hair extensions is how well do they blend with your natural hair? By using Easilocks Tips means the hair will be virtually undetectable. "Personally I wear my hair up most of the time, and as a result, I find the Easilocks bonds easy to cover". Our consultant can correctly colour match your Easilocks to your real hair in order for them to blend seamlessly allowing for a natural and realistic finish. No matter how many colours you have in your hair, we can combine many colours and tones to create the perfect match for your hair.
How durable are they?
Easilocks are just as durable as real, healthy hair because Easilocks use the best quality human hair. There is no synthetic hair out there that works the same as human hair, and so with Easilocks, you do not have to worry about hair products or styling tools ruining your extensions. "I find these extensions really easy to manage myself. They are far easier to wash and blow-dry than other types I've tried, and I can style them in many different ways, using various heated appliances if needed." We can always recommend appropriate hair care products and styling tools that work well with hair extensions for you to purchase if you so desire.
How long do they last?
The tips can last 2-3 months at a time and the human hair itself can be reused up to 1 year with good care. Tip last longer than any other module, so that's less maintenance time in the salon and more time showing off your hair!
"I cannot recommend Easilocks enough, it really has changed my life, I have now been able to have the hair I've always wanted!" If you have always dreamt of voluminous, thick, long and easy-to-manage hair then Easilocks hair extensions will make your hair dreams come true. Come into our salon for a free consultation with one of our Easilocks experts who can guide you through the best options for your hair needs. The embedded quotes used throughout this blog are from our Salon Manager who personally use Easilocks is the best-kept secret in Hollywood with many A-listers favouring this organic alternative to enhance their natural hair.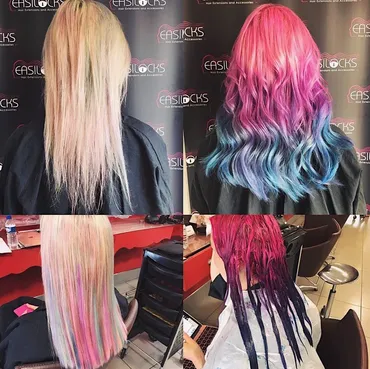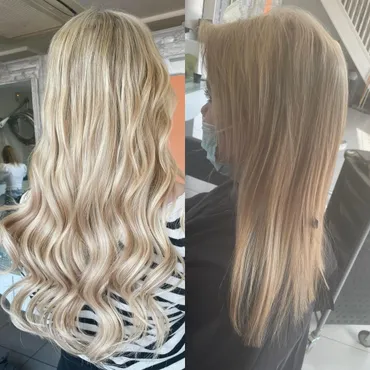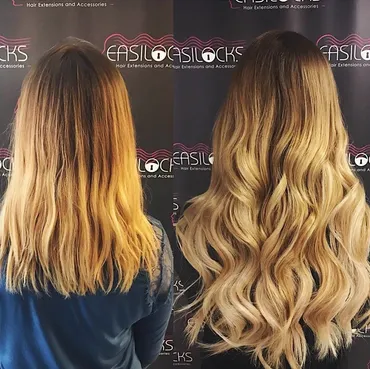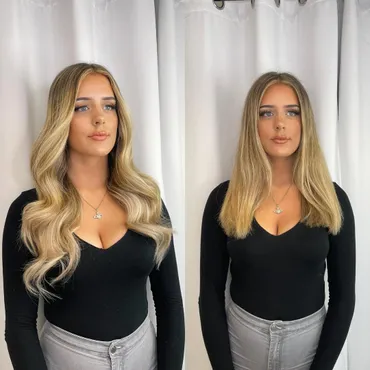 Beauty Works Fitting Prices
Weft Extensions
Weft
Lengths
Pack
Info
Price
Celebrity Choice
16″, 18″, 20″ & 22″
120g per pack
100% Remy Hair
Double Drawn
Natural Volume
Half hour – £40
1 Hour – £75
Gold Double
18″, 20″, 22″ & 24″
150g-220g per pack
100% Remy Hair
Double Drawn
Double Wefted
Half hour – £40
1 Hour – £75
Gold Flat Track
16″, 18″, 20″, 22″ & 24″
48g-88g per weft
100% Remmy Hair
PU and Lace Weft
Super Flat Half Weft
Half hour – £40
1 Hour – £75
Tape In Extensions
| Weft | Lengths | Pack | Info | Price |
| --- | --- | --- | --- | --- |
| Invisi Tape | 18″ & 20″ | 40g-48g per pack  | 100% Virgin Hair | £price |
| Celebrity Choice Slimline Tape | 14″ – 28″ | 48g per pack | Remy Human Hair | £price |
Refit or Removal
Service
Price
Refit
Half hour – £34
1 Hour – £63.75
Tape In & Weft Removal
£40 per hour
Remy hair extensions are collected and sorted from various sources from root to tip travelling in the same direction to ensure the cuticle doesn't tangle or matte.
100% Remy Hair – Cuticle Remy hair extensions are 100% Remy hair collected from the cuticle and not stripped
Double Drawn – Hair is organised in equal lengths developing a smooth and refined look. This method gives natural volume
Double Wefted – Hair is twice as thick, giving more hair on each piece of hair. This method gives ultimate thickness
Use a sulphate free shampoo and conditioner (Pearl nourishing shampoo and conditioner)
Use a leave in conditioner (10 in 1 Miracle Spray)
Always use heat protection
Use Argan Serum